Spark joy in your workplace with effective metadata
Chances are, you've heard about Marie Kondo's Kon-Mari Method – the idea that giving consideration to the purpose of items helps you shed unnecessary clutter for a calmer, happier and more efficient home. And as passionate advocates of calmer, happier and more efficient workspaces, we were excited to see Kondo teaming up with organizational psychologist Scott Sonenshein to release the book Joy at Work.
With ways of working upended by this spring's lockdown, some of us will be looking to fine-tune hastily organized remote setups into longer term arrangements as others prepare for a careful return to the office. But regardless of physical location, it's never been more important (both for our wellbeing and an organization's efficiency) to remove clutter from our digital working spaces the same way we would our homes.
When it comes to digital file storage, lack of data can transform even the most important assets into worthless, frustrating clutter. In a US survey by Nintex of 1,000 professionals, 39% of interviewees reported broken file management within their organization. Of these, almost half went on to cite trouble locating documents; 43% mentioned incomplete document approval and sharing, and 33% struggling with document versioning.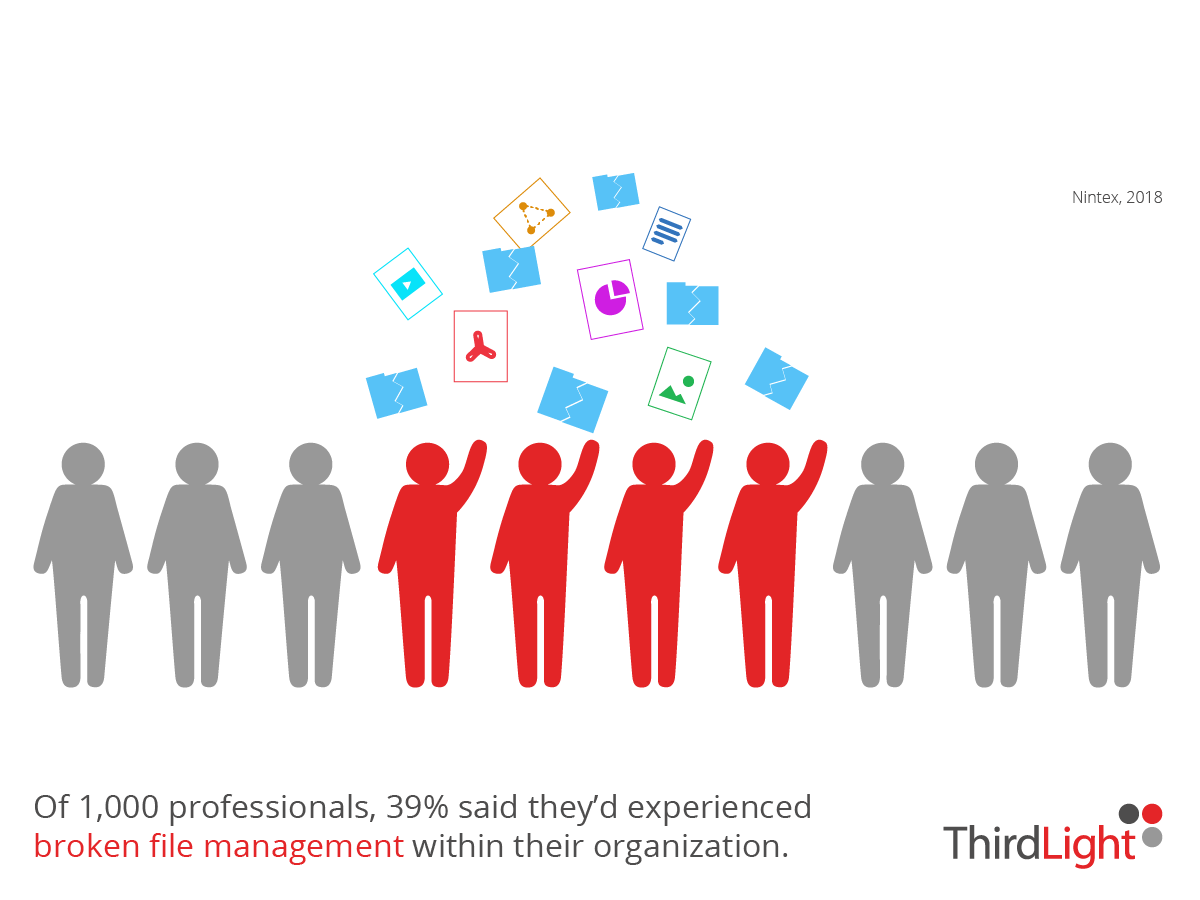 Aside from a negative impact on job satisfaction, it's wasteful for any organization to have its employees spending more time hunting for files than they need to – or worse still, not being able to use valuable content because it's been stored somewhere nobody can find it. Fast forward to today, when these users are spread out remotely, messaging and calling each other to ask where things are. It's not a productive scenario!
It's time for a tidy-up, and we have the answer: a digital asset management system (DAM for short) with a metadata-driven search function, plus artificial intelligence and automation to keep your valuable files consistent and retrievable. Whether you choose Chorus or another DAM, here's our guide to successfully harnessing the power of metadata for a well-ordered and efficient virtual workspace.
Why metadata?
Some assets, such as text documents or web pages, contain text that can be easily consumed by search engines. However, many other files – the ones we're using more and more of in a content-driven world, such as pictures and artwork files – are only ever searchable by filename. They can only be manually browsed based on a very broad category, such as the folder in which they are stored.
But even non-visual files can be lost in a system that the user navigates based on where a document is filed; the weakness lies in the differing thinking of the multiple individuals doing the filing. When documents sit in folders determined by criteria like process used, year of creation, eventual purpose or the original project for which they were created, the uninitiated will have to do some serious detective work to find them.
Tagging the files themselves with what they are gives everyone a chance of finding them – which is where a DAM comes into its own. It works with a combination of set criteria (to help users browse) and exact terms (for precision) – all tailored to the individual way your business does business.

How to add metadata
When it successfully addresses the needs of users, metadata tagging in a DAM such as Chorus will end up slashing searching hours and preserving employees' valuable mental 'bandwidth'.
The best possible foundation for this comes from setting some time aside early on for thinking and planning. This will help you get the most from time-saving automations – such as bulk tagging, inherited folder metadata and artificial intelligence (AI) powered automatic tagging – to take care of more setup requirements than you'd initially think.
Automation
There are many ways to let a DAM like ours take set-up workload off your shoulders. Smart collections are 'live' file compilations which have been configured to automatically draw in files according to pre-specified keywords. While this feature supercharges your users' ability to browse, it can also be invaluable to an administrator. A Smart Collection that's been configured to show files with no metadata becomes an automated workflow for whoever has to add keywords or captions.
Chorus can be set to eliminate its store of duplicate files, retaining just one high-quality version from which other versions can be derived on demand. It also harnesses AI products such as Imagga and Google Cloud Vision to tag thousands of images with multiple, nuanced keywords in just seconds.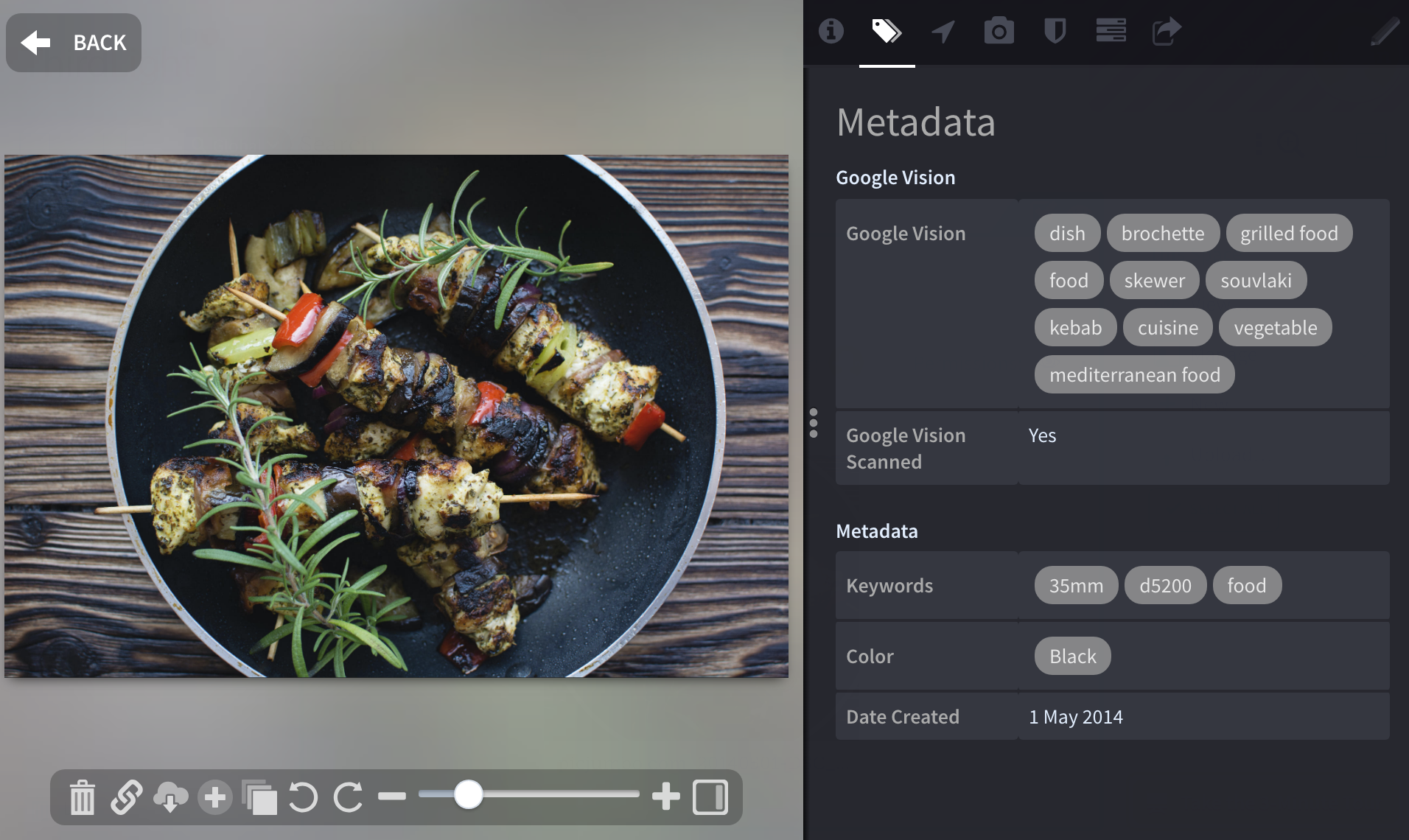 Captions
Whether you're using Chorus or another DAM, your first step when adding metadata to a file should be a caption. A good caption contains carefully selected words, ideally remaining focused on the actual contents of the file to provide the highest quality of search results. For the reasons we've already mentioned, it's particularly important for photography and video.
Top-level details
You can share a surprising amount of detail by describing the subject and its attributes, for instance: "Small yacht with sails against storm clouds in rough seas." Including colors and visual attributes – such as "large blue beach ball" or "black cat with green eyes" – can make it easier for designers to find a match in visual files.
Location
Location information (via GPS) will often be imported with the file, so there's no need to add data unless it offers a better context to a searcher, for example: "Students graduating at the Senate House, Cambridge University."
Timing
In general, timeline of a file's creation will be embedded in its data and a photo will have a date stamp from the camera – so only add timing information to the caption if it adds a more search friendly aspect. "Autumn forest" or "the London Eye at night" both contain more information than a simple time and date can provide.
Third Light Tip: Don't enter too much metadata in your caption; include just enough to catch the majority of the meaning. Too many keywords, and the caption's usefulness drops off sharply. If you want to add more information to the caption but can't cram it all into a coherent sentence, you should move onto keywords.
Keywords
Compared to the art of caption writing, keywording is more logical – it takes the form of a collection of single words, or very short phrases, which are attributes of the image.
Controlled vocabulary
Keywords work best when structured to grant the user a consistent experience when searching – but the exact details of that structure will differ across organizations and systems. We know this stage needs some careful thought, so one of the jobs of our experienced Customer Success team is to help customers navigate it.
The goal is to identify and agree upon a collection of keywords that provides enough detail for users to find what they're looking for, while being limited enough to avoid duplication of meaning. Each organization has different needs – so while a local authority will probably find "blue" useful enough, an interiors company may find it useful to have "teal", "sky blue" and "navy".
However, in order to do this, the interiors company's users would be well served by first agreeing which terms appear on the keyword list. Without this, one employee will tag an image "powder blue", where another will mark it "baby blue" – and a searcher will only find one image when two should have been returned. Finding the ideal balance of consistency and flexibility for the way your teams work will ultimately define the quality of any search results.
Using a hierarchy
You can choose to consistently apply your keywords from a list of pre-defined options – in a sense, making keywords into categories. A taxonomy, which is a tree-like structure of keywords that becomes more specific as you go up the tree, can be invaluable for this. A taxonomy is often represented left to right in this form: "Europe -> Italy -> Rome -> Colosseum".
When multiple users have to collaborate, especially remotely, using either a controlled vocabulary or taxonomy is all-but essential – with every additional team member, the likelihood of conflicting approaches will grow. Using controlled vocabularies such as dropdown lists also minimises inputting errors from spelling and team members' personal language preferences.
If you'd like to know how Chorus is designed to help you exceed at all three for a calmer, happier and more productive virtual workplace, email ask@thirdlight.com – we're always happy to talk tidying.
Author: Edie Mullen
---