Pittsburgh Penguins - Third Light Success Story
The Pittsburgh Penguins are the premier NHL team of today, and one of biggest sports brands in the USA. Connecting fans with the team using digital media is part of their success story. How does Third Light's media library software fit it?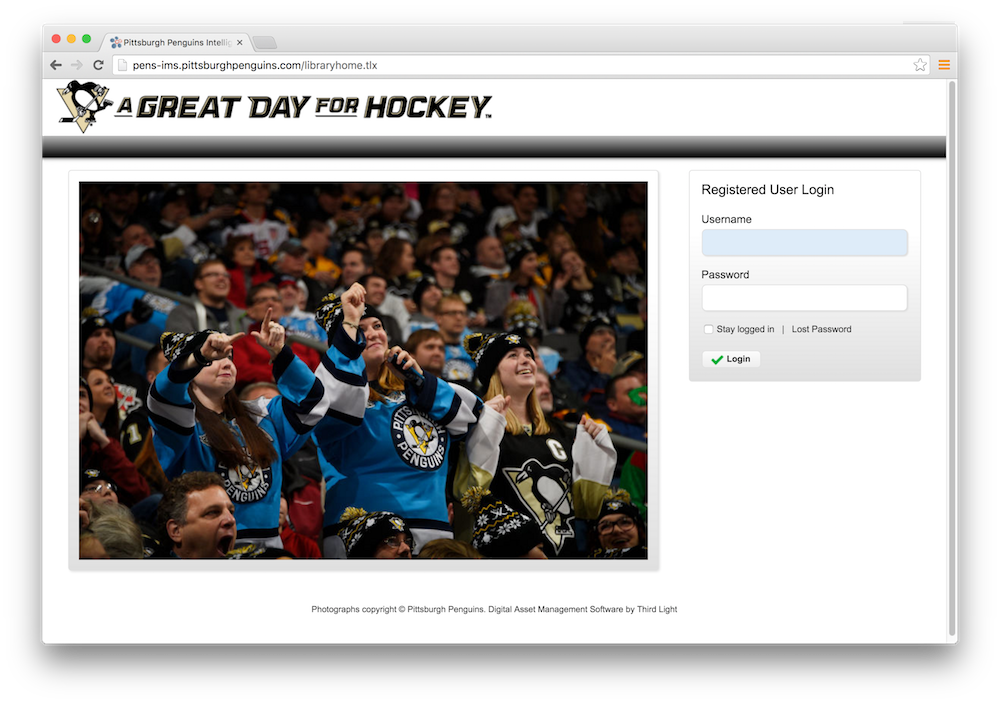 Centralizing digital content
The marketing team at the Pittsburgh Penguins deployed a Third Light server to centralize their media storage and streamline digital brand activities through a single, definitive media bank.
Erik Watts, Senior Director, Technology at the Pittsburgh Penguins explains how the new solution has rapidly transformed the brand management activities at the team:
For a professional hockey team, photo management is an essential part of our marketing and brand. We were finding we had too many files to manage and needed to upgrade to a professional DAM solution. We selected Third Light for their easy to use, feature-rich product and helpful team.

Since we launched, Third Light has really changed the way we manage and share these assets for the better, making our digital media easily searchable and much more engaging for every day tasks like sharing and discussing artwork. We are years ahead of where we were just several months ago.

Erik Watts, Senior Director, Technology - The Pittsburgh Penguins
Making an impact with digital media
Many sports teams are making the switch to digital asset management to efficiently extend digital media archives outside the organisation, while also maintain full control and management with internal users. Third Light is also proud to serve the Vancouver Canucks, the Denver Broncos, the Atlanta Hawks, the Charlotte Hornets, the Phoenix Suns and more.
These leading teams and brands accelerated their digital activities with Third Light. Keeping fans and the media connected – and spreading their passion for sport – means using digital content effectively.
Third Light is delighted to be part of the Penguin's success story. Could your team be next? Please ask@thirdlight.com if we can help.

---