Integration with BrandStencil enables online creation of customisable marketing materials in minutes
Electric Putty's web application, BrandStencil, makes light work of reproducing brand consistent, customisable marketing materials for the charitable sector. Established in 2004, Electric Putty has been delivering harmonious web experiences within the charity and not-for-profit sector for nearly 12 years. We spoke to Malcolm Elsworth, BrandStencil's Director of Technology, to find out how BrandStencil's integration with Third Light has created an effortless workflow in one interface.
Pre-approved, branded templates save time and money
BrandStencil provides access to branded marketing templates through a web portal to enable the creation of tailored marketing materials. In these templates only necessary fields are editable, which means users can quickly and simply add content to designs that are already approved and on brand. Fields can be static, free text or a drop-down selection of your key brand messages with the ability to add from a selection of pre-approved images. Having these pre-approved, branded templates saves money and time and it cuts out approvals.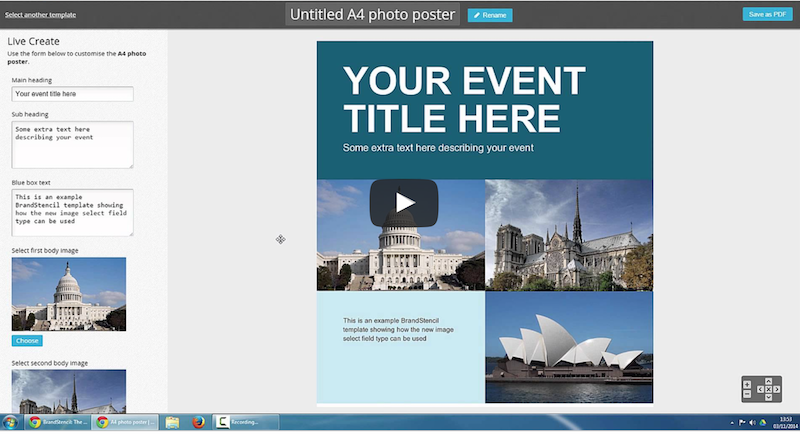 BrandStencil's clients include RSPB, Time to Change, Army Cadet Force, Princess Alice Hospice, Soldiers Charity, Chron's & Colitis UK, The Wildlife and Wetlands Trust and Dorothy House Hospice.
Jo Treverton, Intranet Channel Manager at RSPB says:
"The simplicity and performance of the BrandStencil system is what appealed to us most and we've had nothing but excellent feedback from our users. It's extremely important to us to have a consistent brand experience across our UK-wide operations – without BrandStencil, this wouldn't be quite so easy."
Helping networks of workers and volunteers promote their charity, wherever they are
BrandStencil's seamless integration with Third Light means users can browse and use images from their Third Light media library whilst making artwork with their marketing templates. Clever permissions between the systems only allow users to browse images they have approval to use, and are the right size and aspect ratio for the artwork. As no training, design or IT skills are required, it's not difficult to see how much this solution can help networks of workers and volunteers promote their charity, wherever they are.
Malcolm Elsworth - Director of Technology at BrandStencil reports:
"Third Light's integration tools have enabled us to create an effortless workflow where users can browse, select and crop their Third Light images all from within one interface. With a single click the chosen image is dropped into their BrandStencil template ready for download as a print ready PDF or share ready image."
Third Light's digital media library has many other features including:
Hosted, secure storage
Unlimited users with editing and rights administration
Instant search and find with meta-data tagging
Image editing and format conversion
Video editing and clipping
Multi-channel sharing and publishing
Approval paths and workflows
Real-time chat for internal and external users
Usage reports to see where files are being used and by whom
Version control
Roland Henry, Third Light's Commercial Director concludes:
"Working with BrandStencil to deliver a solution like this is great for the client because they get two very specialised pieces of software seamlessly working together in one user interface. Third Light's API allows developers to build custom developments with one or more pieces of software, so we can deliver tailored, multi-functional, end-to-end solutions for our customers."
If you're an existing Third Light customer and think you could benefit from using BrandStencil's application, or you're interested in media library solutions, then please don't hesitate to contact roland.henry@thirdlight.com Or if you haven't tried our digital media library yet, sign-up today for a 30-day free trial
---
DAM - Digital Asset Management Digital Workflow Modules Newsletters