Annotations: closing the feedback loop with Chorus
Today's marketing and creative teams are having to move even faster when it comes to creating their content pipeline. This often involves working with multiple types of files for different projects that require feedback from various stakeholders across the company, as well as external collaborators. So, how can you and your team ensure that you gather accurate and timely feedback across your content workflows without impacting your project timescales?
This month we're super excited to introduce annotations. Our new Chorus feature that will transform how you review, comment and manage feedback for your work-in-progress projects. Included as part of the comments module, this new markup tool integrates seamlessly with the comment stream for a file. It allows you to add annotations, by overlaying text and graphics onto a file's preview in Chorus, including images, videos and documents, and link them into the comments stream.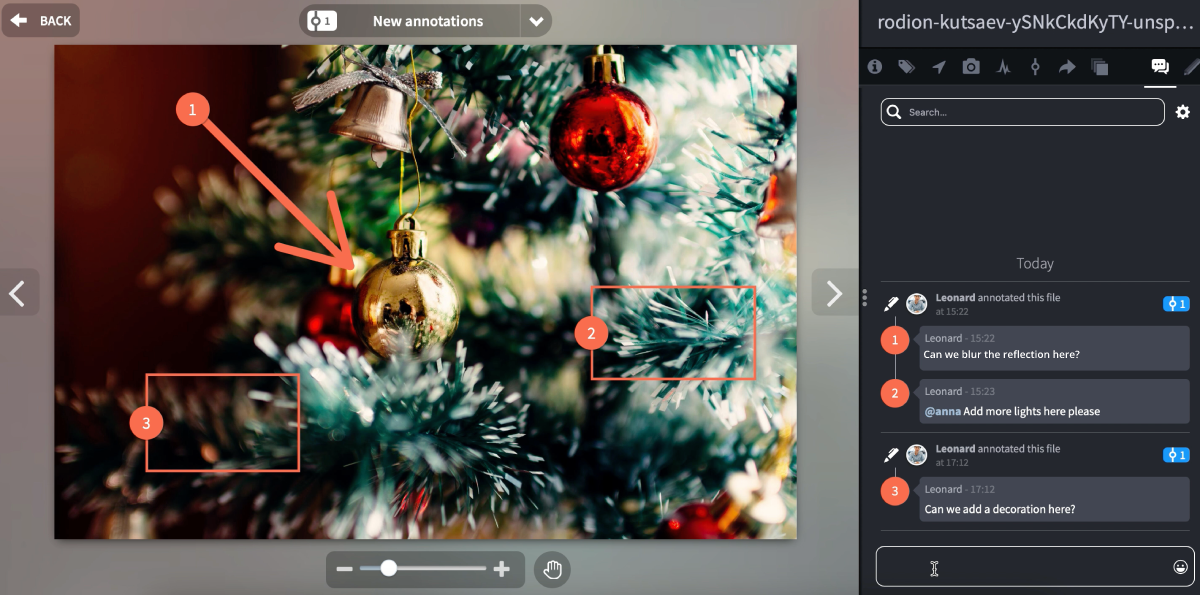 "With annotations in Chorus we're taking creative collaboration to the next level," says Ben Holland, Third Light's Head of Development. "We know that comments are a great tool for general communication within project teams to manage reviews and approvals. But now team members can add specific feedback directly to the files themselves. This makes it much quicker and easier for teams to collaborate within their creative workflow, and will ultimately speed up the delivery of their projects."
Feedback at your fingertips
At the heart of any creative project is the need by team members to be able to provide feedback and bounce ideas off each other as they progress on their projects. Having access to a tool like annotations allows them to work on multiple revisions without leaving their Chorus site to review a file using an external tool. They can simply comment on the details of assets and add annotations to specific parts of an image, document or video. What's more, annotations use a visual language and user interface that is familiar to anyone who has used other annotation tools, like those provided by Adobe or Apple.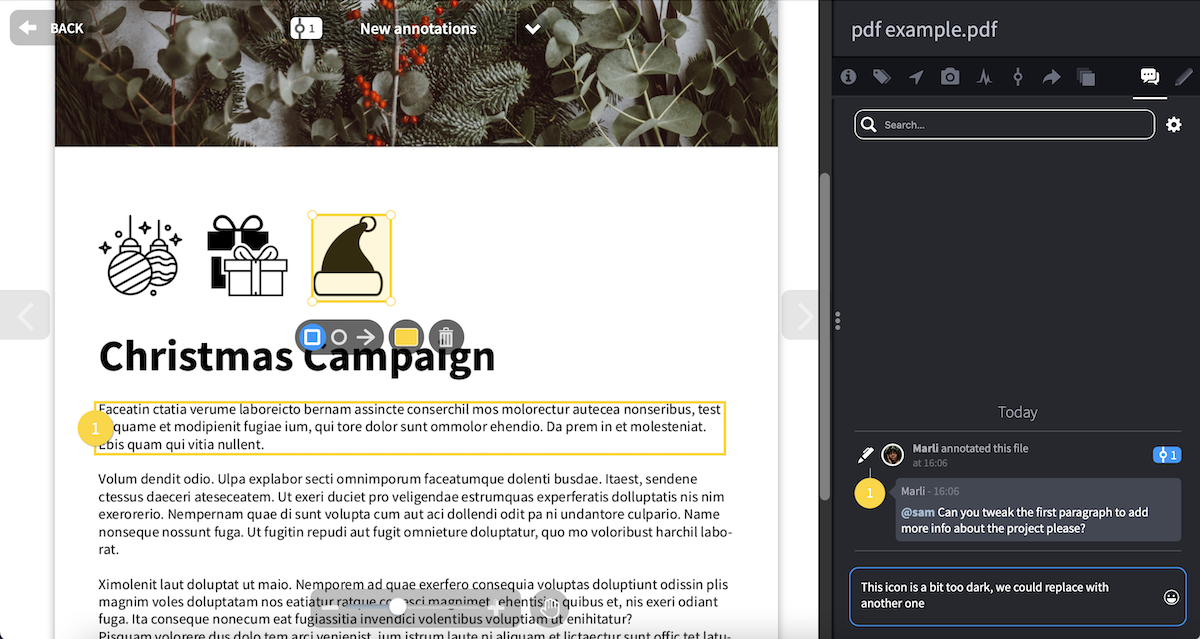 Even better, when used in combination with Project Sync, Chorus's file syncing app, the revision experience with comments and annotations becomes more powerful. We know that uploading and downloading files is time-consuming and can lead to version control issues. Having Project Sync installed on everyone's Mac or PC means that when an image needs to be retouched, a video trimmed or a draft document needs feedback, any modifications made to those files are synced to Chorus and instantly updated accordingly for anyone viewing online. Any comments linked to those revisions appear in the comments window within Chorus.
"Now team members can add specific feedback directly to the files themselves. This makes it much quicker and easier for teams to collaborate within their creative workflow, and will ultimately speed up the delivery of their projects."

Ben Holland, Head of Development, Third Light
Fast, simple video reviews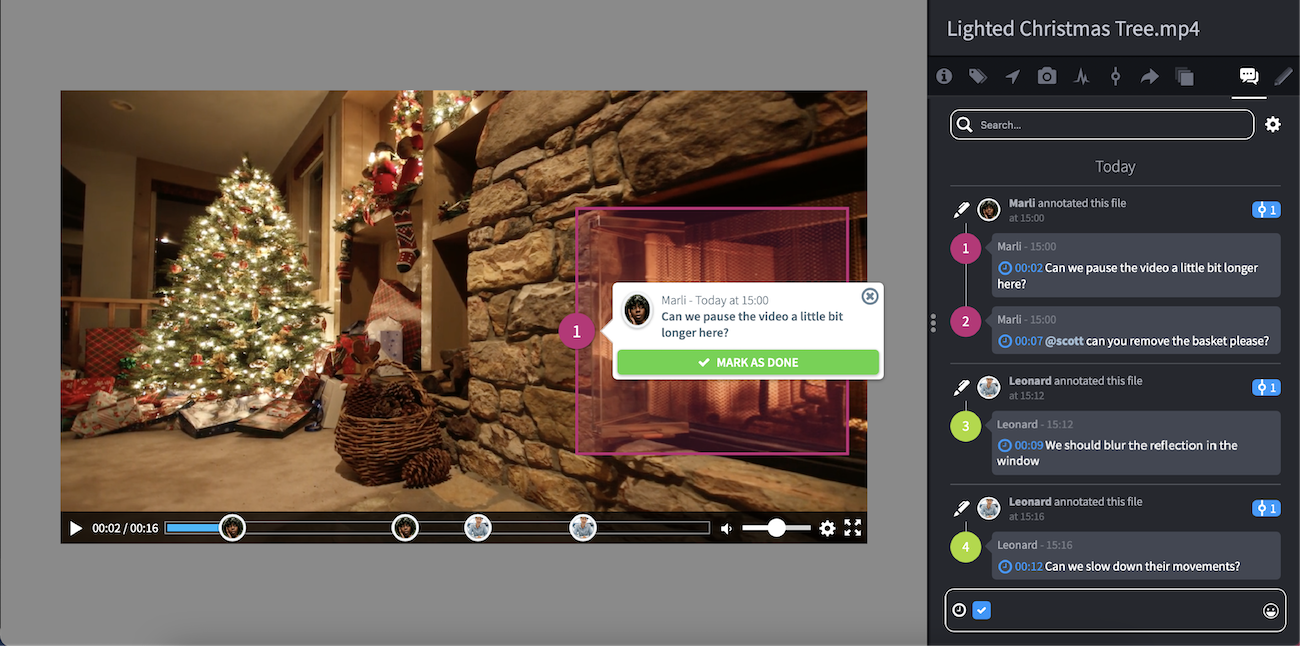 Demand for video creation in marketing continues to rise rapidly. According to a recent survey as much as 86% of businesses use video as a marketing tool. With this comes the need for teams to have instant access to collaboration tools that will integrate seamlessly with their workflows. Chorus annotations bring simplicity to this video review process, with quick and clear version management that helps you manage multiple video revisions and collect feedback in real-time. You can decide to either leave an annotation with a sticker number and shape, or simply leave a comment with time stamp. Each time you leave an annotation, your avatar picture will show in the timeline at the specific time you added your annotation. This clearly shows to everyone working simultaneously on the project what iterations have been made and who's made them, by looking at the comments stream.
From media creation to marketing material distribution, Chorus takes away so many of our team's daily chores. Having one place to store work, one place to preview the latest version, one place to leave feedback has removed confusion and sped up approval cycles. Chorus has made room in our day for creative thinking and getting things done.
If you'd like to learn more about the new annotation tool and see it in action, book a demo today, we'd be delighted to show you how it works. And if you have any questions about how Chorus can help you simplify your workflows, just ask@thirdlight.com or head to the live chat window on our homepage.
Other articles you may find useful:
Planning a change? Don't forget to factor in feelings
Whether you're introducing a timesaving digital tool, rolling out software or transforming how an entire company does business, the chances of a successful launch will increase by a third if the people at the centre of your plans are emotionally invested.
Chorus: the powerful tech behind a creative solution
If you're an IT person, or you'd just like to know about the standards we hold for our management of the system and see exactly how your valuable files and content are in such safe hands, we've compiled in one place all the facts and figures you will need.
---